.
QGIS as OGC Data Client
The Open Geospatial Consortium (OGC) is an international organization with membership of more than 300 commercial, governmental, nonprofit and research organizations worldwide. Its members develop and implement standards for geospatial content and services, GIS data processing and exchange.
Describing a basic data model for geographic features, an increasing number of specifications are developed by OGC to serve specific needs for interoperable location and geospatial technology, including GIS. Further information can be found at http://www.opengeospatial.org/.
Important OGC specifications supported by QGIS are:
OGC services are increasingly being used to exchange geospatial data between different GIS implementations and data stores. QGIS can deal with the above specifications as a client, being SFS (through support of the PostgreSQL / PostGIS data provider, see section PostGIS Layers).
WMS/WMTS 클라이언트
WCS Client

A Web Coverage Service (WCS) provides access to raster data in forms that are useful for client-side rendering, as input into scientific models, and for other clients. The WCS may be compared to the WFS and the WMS. As WMS and WFS service instances, a WCS allows clients to choose portions of a server's information holdings based on spatial constraints and other query criteria.
QGIS has a native WCS provider and supports both version 1.0 and 1.1 (which are significantly different), but currently it prefers 1.0, because 1.1 has many issues (i.e., each server implements it in a different way with various particularities).
The native WCS provider handles all network requests and uses all standard QGIS network settings (especially proxy). It is also possible to select cache mode ('always cache', 'prefer cache', 'prefer network', 'always network'), and the provider also supports selection of time position, if temporal domain is offered by the server.
WFS and WFS-T Client
In QGIS, a WFS layer behaves pretty much like any other vector layer. You can identify and select features, and view the attribute table. Since QGIS 1.6, editing WFS-T is also supported.
In general, adding a WFS layer is very similar to the procedure used with WMS. The difference is that there are no default servers defined, so we have to add our own.
Loading a WFS Layer
As an example, we use the DM Solutions WFS server and display a layer. The URL is: http://www2.dmsolutions.ca/cgi-bin/mswfs_gmap
Click on the Add WFS Layer tool on the Layers toolbar. The Add WFS Layer from a Server dialog appears.
Click on [New].
Enter 'DM Solutions' as name.
Enter the URL (see above).
Click [OK].
Choose 'DM Solutions' from the Server Connections drop-down list.
Click [Connect].
Wait for the list of layers to be populated.
Select the Parks layer in the list.
Click [Apply] to add the layer to the map.
Note that any proxy settings you may have set in your preferences are also recognized.
Figure OGR 3: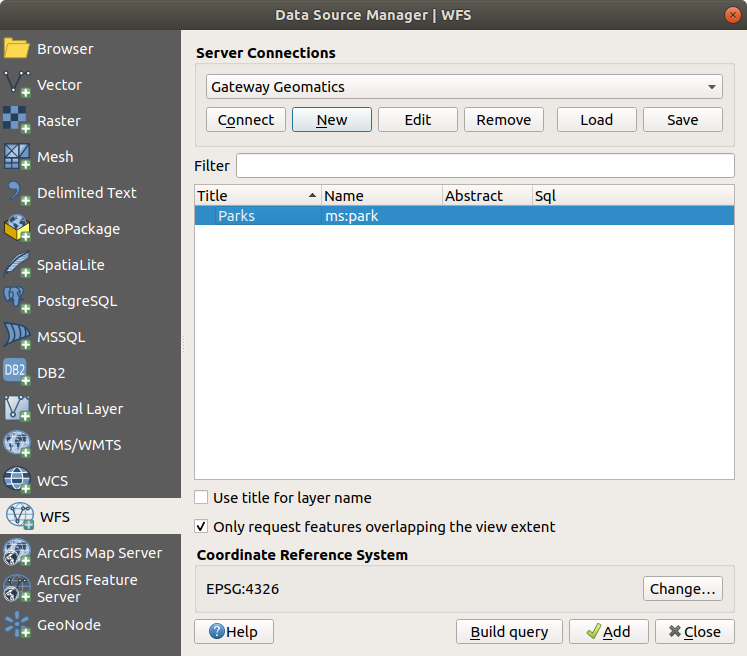 You'll notice the download progress is visualized in the lower left of the QGIS main window. Once the layer is loaded, you can identify and select a province or two and view the attribute table.
Only WFS 1.0.0 is supported. At this time, there have not been many tests against WFS versions implemented in other WFS servers. If you encounter problems with any other WFS server, please do not hesitate to contact the development team. Please refer to section 도움과 지원 for further information about the mailing lists.
참고
Finding WFS Servers
You can find additional WFS servers by using Google or your favorite search engine. There are a number of lists with public URLs, some of them maintained and some not.