Yol Grafiği Eklentisi
The Road Graph Plugin is a C++ plugin for QGIS that calculates the shortest path between two points on any polyline layer and plots this path over the road network.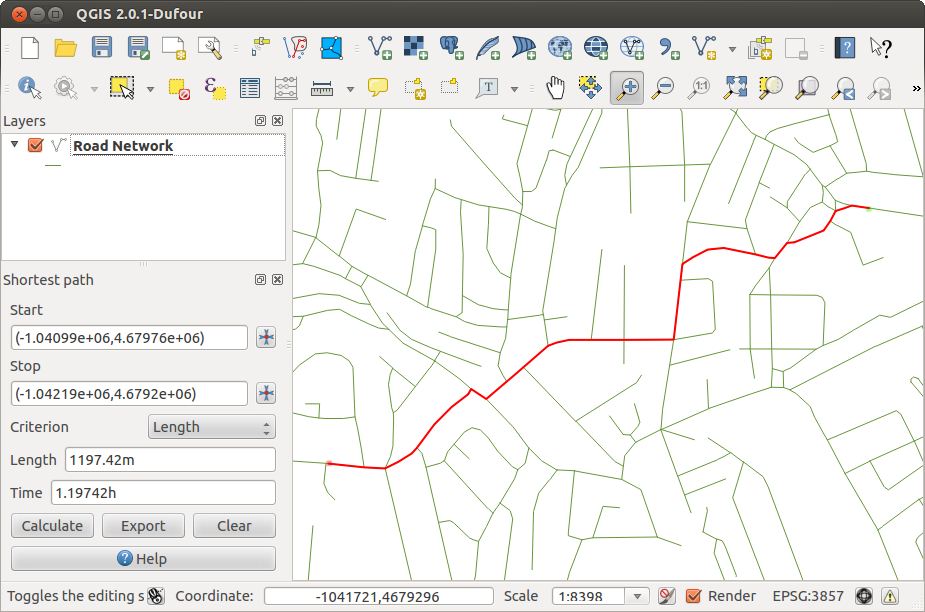 Temel özellikler:
uzunluk ve seyahat süresi ile birlikte yolu hesaplar.

uzunluk veya seyahat süresi ile optimize eder.

yolu bir vektör katmanına çıkarır.

yolların yönlerini hafızada tutar (bu yavaş ve onarım amaçlı ve ayarları test amaçlı kullanılır )
As a roads layer, you can use any polyline vector layer in any QGIS-supported format. Two lines with a common point are considered connected. Please note, it is required to use layer CRS as project CRS while editing a roads layer. This is due to the fact that recalculation of the coordinates between different CRSs introduces some errors that can result in discontinuities, even when 'snapping' is used.
katman simge tablosunda sıradaki alanlar kullanılabilir:
yol bölümündeki hız (sayısal alan)

Yön(her tür stringe dönüştürülebilir). İleri ve geri yönler tek-yön yola benzetilebilir, her ikisi çift-yön yolu gösterir.
Eğer bazı alanlar mevcut değilse veya herhangi bir değerleri yoksa, varsayılan değerler kullanılır. Bazı eklenti ayarlarını ve bu varsayılan değerleri eklenti ayarlar iletişim kutusundan değiştirebilirsiniz.
eklenti kullanma
After plugin activation, you will see an additional panel on the left side of the main QGIS window. Now, enter some parameters into the Road graph plugin settings dialog in the menu (see figure_road_graph_settings).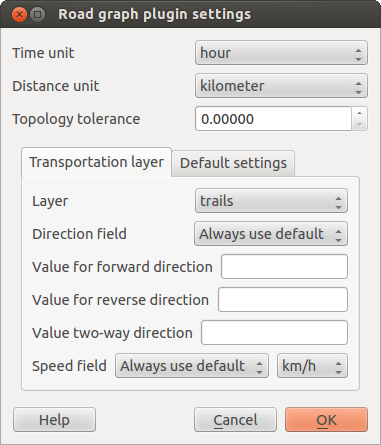 :gka etiketi:'Zaman birimi', :gka etiketi:'Mesafe birimi' ve :gka etiketi: 'Topoloji toleransı' ayarlarından sonra , :gka etiketi:'Taşıma katmanı' etiketinde vektör katmanını seçebilirsiniz. Ayrıca :gka etiketi:'Yön alanı' ve :gka etiketi:'Hız alanı' nı buradan seçebilirsiniz. :gka etiketi:'Varsayılan ayarlar' etiketinde, :gka etiketi: 'Yön' hesaplaması için ayarlayabilirsiniz.
Sonunda, :gka etiketi:'En kısa yol' panosunda, yol ağında bir Başlangıç ve Bitiş noktası seçin ve [Hesapla] ya tıklayın.