QGIS supports various capabilities for editing OGR, SpatiaLite, PostGIS, MSSQL Spatial and Oracle Spatial vector layers and tables.
For an optimal and accurate edit of the vector layer geometries, we need to set an appropriate value of snapping tolerance and search radius for features vertices.
Snapping tolerance is the distance QGIS uses to search for the closest vertex and/or segment you are trying to connect to when you set a new vertex or move an existing vertex. If you aren't within the snapping tolerance, QGIS will leave the vertex where you release the mouse button, instead of snapping it to an existing vertex and/or segment. The snapping tolerance setting affects all tools that work with tolerance.
A general, project-wide snapping tolerance can be defined by choosing , Digitizing tab. You can select between 'To vertex', 'To segment' or 'To vertex and segment' as default snap mode. You can also define a default snapping tolerance and a search radius for vertex edits. The tolerance can be set either in map units or in pixels. The advantage of choosing pixels is that the snapping tolerance doesn't have to be changed after zoom operations. In our small digitizing project (working with the Alaska dataset), we define the snapping units in feet. Your results may vary, but something on the order of 300 ft at a scale of 1:10000 should be a reasonable setting.
A layer-based snapping tolerance that overrides the global snapping options can be defined by choosing . It enables and adjusts snapping mode and tolerance on a layer basis (see figure_edit_1 ). This dialog offers three different modes to select the layer(s) to snap to:

Current layer: only the active layer is used, a convenient way to ensure topology within the layer being edited
All layers: a quick and simple setting for all visible layers in the project so that the pointer snaps to all vertices and/or segments. In most cases it is sufficient to use this snapping mode.
Advanced: if you need to edit a layer and snap its vertices to another layer, ensure the target layer is checked and increase the snapping tolerance to a greater value. Furthermore, snapping will never occur to a layer that is not checked in the snapping options dialog, regardless of the global snapping tolerance. So be sure to mark the checkbox for those layers that you need to snap to.
Figure Edit 1:

Tip
Control the list of layers to snap
The Snapping Options dialog is by default populated with parameters (mode, tolerance, units) set in the global Digitizing tab. To avoid layers being checked by default in the Advanced mode and hence set snappable, define the Default Snap mode to Off.
Snapping tolerance can be set in pixels or map units (the units of the map view). While in the Advanced layer selection mode, it is possible to use a snapping tolerance that refers to layer units, the units of the reprojected layer when 'on-the-fly' CRS transformation is on.
Search radius is the distance QGIS uses to search for the closest vertex you are trying to select when you click on the map. If you aren't within the search radius, QGIS won't find and select any vertex for editing. Snap tolerance and search radius are set in map units or pixels, so you may find you need to experiment to get them set right. If you specify too big of a tolerance, QGIS may snap to the wrong vertex, especially if you are dealing with a large number of vertices in close proximity. Set search radius too small, and it won't find anything to move.
The search radius for vertex edits in layer units can be defined in the Digitizing tab under

. This is the same place where you define the general, project-wide snapping tolerance.
By default, QGIS loads layers read-only. This is a safeguard to avoid accidentally editing a layer if there is a slip of the mouse. However, you can choose to edit any layer as long as the data provider supports it, and the underlying data source is writable (i.e., its files are not read-only).
In general, tools for editing vector layers are divided into a digitizing and an advanced digitizing toolbar, described in section Advanced digitizing. You can select and unselect both under . Using the basic digitizing tools, you can perform the following functions:
| Icon | Purpose | Icon | Purpose |
| --- | --- | --- | --- |
| | Current edits | | Toggle editing |
| | Add Feature: Capture Point | | Add Feature: Capture Line |
| | Add Feature: Capture Polygon | | Move Feature |
| | Add Circular String | | Add Circular String By Radius |
| | Node Tool | | Delete Selected |
| | Cut Features | | Copy Features |
| | Paste Features | | Save layer edits |
Table Editing: Vector layer basic editing toolbar
Note that while using any of the digitizing tools, you can still zoom or pan in the map canvas without losing the focus on the tool.
All editing sessions start by choosing the

Toggle editing option found in the context menu of a given layer, from the attribute table dialog, the digitizing toolbar or the menu.
Once the layer is in edit mode, additional tool buttons on the editing toolbar will become available and markers will appear at the vertices of all features unless Show markers only for selected features option under menu is checked.
Tip
Save Regularly
Remember to

Save Layer Edits regularly. This will also check that your data source can accept all the changes.
You can use the

Add Feature,

Add Feature or

Add Feature icons on the toolbar to add new feature (point, line and polygon) into the current layer.
The next buttons

Add circular string or

Add circular string by radius allow users to add line or polygon features with a circular geometry.
To create features with these tools, you first digitize the geometry then enter its attributes. To digitize the geometry, left-click on the map area to create the first point of your new feature.
For linear or curved geometries, keep on left-clicking for each additional point you wish to capture or use automatic tracing capability to accelerate the digitization. You can switch back and forth between linear Add feature tool and curved Add circular string... tools to create compound curved geometry. Pressing Delete or Backspace key reverts the last node you add. When you have finished adding points, right-click anywhere on the map area to confirm you have finished entering the geometry of that feature.
Note
Curved geometries are stored as such only in compatible data provider
Although QGIS allows to digitize curved geometries within any editable data format, you need to be using a data provider (e.g. PostGIS, GML or WFS) that supports curves to have features stored as curved, otherwise QGIS segmentizes the circular arcs. The memory layer provider also supports curves.
Tip
Customize the digitizing rubber band
While capturing polygon, the by-default red rubber band can hide underlying features or places you'd like to capture a point. This can be fixed by setting a lower opacity (or alpha channel) to the rubber band's Fill Color in menu. You can also avoid the use of the rubber band by checking Don't update rubber band during node editing.
The attribute window will appear, allowing you to enter the information for the new feature. Figure_edit_2 shows setting attributes for a fictitious new river in Alaska. However, in the Digitizing menu under the menu, you can also activate:
Suppress attributes pop-up windows after each created feature to avoid the form opening
or Reuse last entered attribute values to have fields automatically filled at the opening of the form and just have to type changing values.
Figure Edit 2: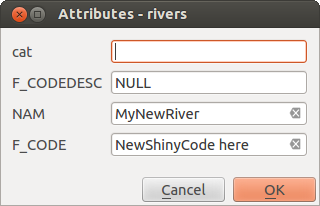 With the

Move Feature(s) icon on the toolbar, you can move existing features.
Selected features can be cut, copied and pasted between layers in the same QGIS project, as long as destination layers are set to

Toggle editing beforehand.
Tip
Transform polygon into line and vice-versa using copy/paste
Copy a line feature and paste it in a polygon layer: QGIS pastes in the target layer a polygon whose boundary corresponds to the closed geometry of the line feature. This is a quick way to generate different geometries of the same data.
Features can also be pasted to external applications as text. That is, the features are represented in CSV format, with the geometry data appearing in the OGC Well-Known Text (WKT) format. WKT features from outside QGIS can also be pasted to a layer within QGIS.
When would the copy and paste function come in handy? Well, it turns out that you can edit more than one layer at a time and copy/paste features between layers. Why would we want to do this? Say we need to do some work on a new layer but only need one or two lakes, not the 5,000 on our big_lakes layer. We can create a new layer and use copy/paste to plop the needed lakes into it.
As an example, we will copy some lakes to a new layer:
Load the layer you want to copy from (source layer)
Load or create the layer you want to copy to (target layer)
Start editing for target layer
Make the source layer active by clicking on it in the legend
Use the Select Features by area or single click tool to select the feature(s) on the source layer
Click on the Copy Features tool
Make the destination layer active by clicking on it in the legend
Click on the Paste Features tool
Stop editing and save the changes
What happens if the source and target layers have different schemas (field names and types are not the same)? QGIS populates what matches and ignores the rest. If you don't care about the attributes being copied to the target layer, it doesn't matter how you design the fields and data types. If you want to make sure everything - the feature and its attributes - gets copied, make sure the schemas match.
Note
Congruency of Pasted Features
If your source and destination layers use the same projection, then the pasted features will have geometry identical to the source layer. However, if the destination layer is a different projection, then QGIS cannot guarantee the geometry is identical. This is simply because there are small rounding-off errors involved when converting between projections.
Tip
Copy string attribute into another
If you have created a new column in your attribute table with type 'string' and want to paste values from another attribute column that has a greater length the length of the column size will be extended to the same amount. This is because the GDAL Shapefile driver starting with GDAL/OGR 1.10 knows to auto-extend string and integer fields to dynamically accommodate for the length of the data to be inserted.
If we want to delete an entire feature (attribute and geometry), we can do that by first selecting the geometry using the regular

Select Features by area or single click tool. Selection can also be done from the attribute table. Once you have the selection set, press Delete or Backspace key or use the

Delete Selected tool to delete the features. Multiple selected features can be deleted at once.
The

Cut Features tool on the digitizing toolbar can also be used to delete features. This effectively deletes the feature but also places it on a "spatial clipboard". So, we cut the feature to delete. We could then use the

Paste Features tool to put it back, giving us a one-level undo capability. Cut, copy, and paste work on the currently selected features, meaning we can operate on more than one at a time.
When a layer is in editing mode, any changes remain in the memory of QGIS. Therefore, they are not committed/saved immediately to the data source or disk. If you want to save edits to the current layer but want to continue editing without leaving the editing mode, you can click the

Save Layer Edits button. When you turn editing mode off with

Toggle editing (or quit QGIS for that matter), you are also asked if you want to save your changes or discard them.
If the changes cannot be saved (e.g., disk full, or the attributes have values that are out of range), the QGIS in-memory state is preserved. This allows you to adjust your edits and try again.
Tip
Data Integrity
It is always a good idea to back up your data source before you start editing. While the authors of QGIS have made every effort to preserve the integrity of your data, we offer no warranty in this regard.
This feature allows the digitization of multiple layers. Choose

Save for Selected Layers to save all changes you made in multiple layers. You also have the opportunity to

Rollback for Selected Layers, so that the digitization may be withdrawn for all selected layers. If you want to stop editing the selected layers,

Cancel for Selected Layer(s) is an easy way.
The same functions are available for editing all layers of the project.