.
QGIS as OGC Data Client
L'OGC (Open Geospatial Consortium) est une organisation internationale à laquelle participent plus de 300 organisations commerciales, gouvernementales, associatives et laboratoires de recherche à travers le monde. Ses membres développent et implémentent des standards pour les services et le contenu géospatial, le traitement de données SIG et les formats d'échange.
Un nombre croissant de spécifications décrivant les modèles de données géographiques sont développées par l'OGC pour servir des besoins spécifiques dans des situations nécessitant une interopérabilité et des technologies géospatiales, dont les SIG. Des informations supplémentaires peuvent être trouvées sur le site http://www.opengeospatial.org/.
Important OGC specifications supported by QGIS are:
OGC services are increasingly being used to exchange geospatial data between different GIS implementations and data stores. QGIS can deal with the above specifications as a client, being SFS (through support of the PostgreSQL / PostGIS data provider, see section Couches PostGIS).
Client WMS / WMTS
Client WCS

Un service Web Coverage (WCS) fournit un accès à des données raster sous une forme qui permet le rendu côté client, comme une entrée vers des modèles scientifiques. WCS peut être comparé à WFS et WMS. Comme ces services, WCS permet aux clients de choisir des portions de données issues du serveur basées sur des contraîntes spatiales et d'autres critères de recherche.
QGIS has a native WCS provider and supports both version 1.0 and 1.1 (which are significantly different), but currently it prefers 1.0, because 1.1 has many issues (i.e., each server implements it in a different way with various particularities).
The native WCS provider handles all network requests and uses all standard QGIS network settings (especially proxy). It is also possible to select cache mode ('always cache', 'prefer cache', 'prefer network', 'always network'), and the provider also supports selection of time position, if temporal domain is offered by the server.
Client WFS et WFS-T
In QGIS, a WFS layer behaves pretty much like any other vector layer. You can identify and select features, and view the attribute table. Since QGIS 1.6, editing WFS-T is also supported.
Dans l'ensemble, l'ajout d'une couche WFS suit une procédure très similaire à celle des couches WMS. La différence est qu'il n'y a pas de serveur défini par défaut, nous allons donc devoir en ajouter un.
Charger une couche WFS
Pour notre exemple nous utiliserons le serveur WFS de DM Solutions et afficherons une couche. L'URL est : http://www2.dmsolutions.ca/cgi-bin/mswfs_gmap
Cliquez sur le bouton Ajouter une couche WFS de la barre d'outils Couches. La fenêtre Ajouter une couche WFS d'un serveur apparaît.

Cliquez sur [Nouveau].

Entrez 'DM Solutions' pour le nom.

Entrez l'URL (voir ci-dessus).

Cliquez sur le bouton [OK].

Choose 'DM Solutions' from the Server Connections drop-down list.

Cliquez sur [Connexion].

Attendez que la liste des couches soit complète.

Cliquez sur la couche Parks dans la liste.

Cliquez sur [Appliquer] pour ajouter la couche à la carte.
Il est à noter que tous paramètres de proxy que vous auriez renseignés dans vos options sont également reconnus.
Figure OGR 3: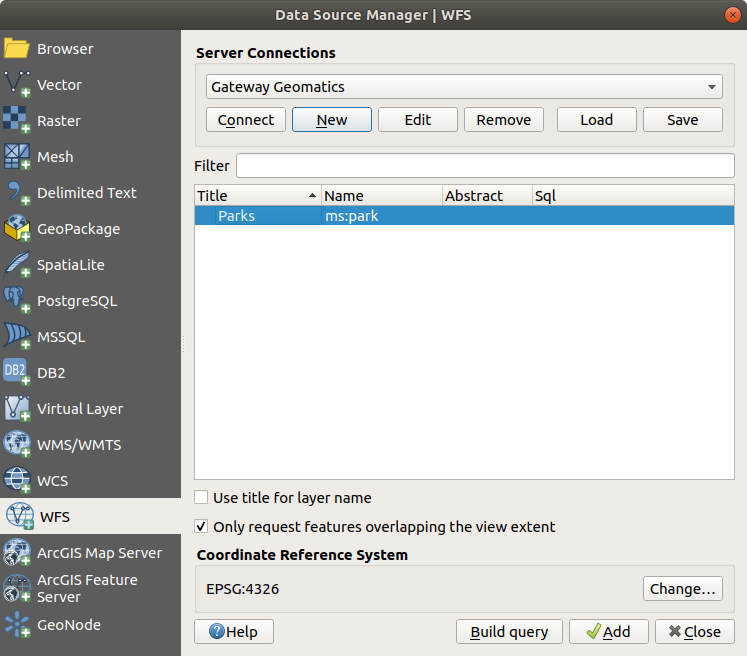 You'll notice the download progress is visualized in the lower left of the QGIS main window. Once the layer is loaded, you can identify and select a province or two and view the attribute table.
Seul le WFS 1.0.0 est géré. Pour le moment il n'y a pas eu de test pour les autres versions des services WFS des serveurs WFS. Si vous rencontrez des problèmes avec d'autres serveurs WFS, n'hésitez pas à contacter l'équipe de développement. Référez-vous à la section Aide et support pour plus d'informations sur les listes de diffusions.
Astuce
Trouver des serveurs WFS
You can find additional WFS servers by using Google or your favorite search engine. There are a number of lists with public URLs, some of them maintained and some not.