19.1. Lesson: QGIS Tarayıcıda Veritabanlarıyla çalışma
In the previous 2 modules we looked at the basic concepts, features and functions of relational databases as well as extensions that let us store, manage, query and manipulate spatial data in a relational database. This section will dive deeper into how to effectively use spatial databases in QGIS.
Bu dersin amacı: QGIS Tarayıcı Arayüzünü kullanarak uzaysal veritabanları ile nasıl etkileşimde bulunulacağını öğrenmek.
19.1.1. |temel| Follow Along: QGIS tarayıcıyı kullanarak Veritabanına Tablo Ekleme
Bir veritabanından QGIS katman olarak tablo eklemeye ayrıntılı olarak baktık, şimdi buna biraz daha detaylı bakalım ve QGIS te bunu daha farklı yollarda yapılabilmesine bakalım. Yeni Tarayıcı Arayüzüne bakarak başlayalım.
QGIS te yeni boş bir harita açınız.

Katman Paneli sekmesinin altındaki Tarayıcı sekmesini tıklayarak Tarayıcıyı açınız.

PostGIS bölmesinin ağacını açınız ve orada daha önceden ayarlarını yapmış olduğunuz erişilebilir bağlantıyı bulabilirsiniz(Tarayıcı penceresinin en üstündeki Yenile düğmesine tıklamanız gerekebilir)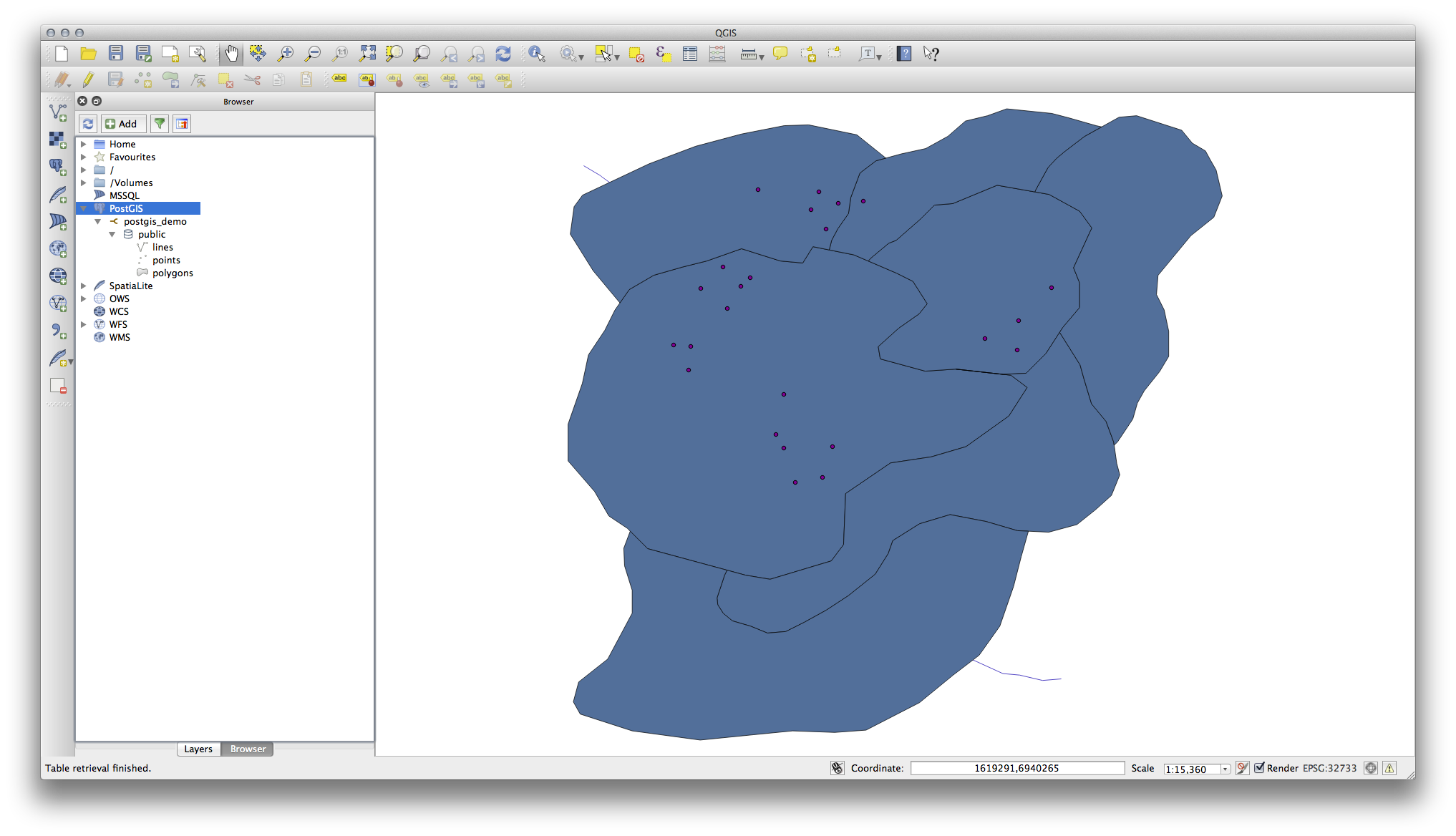 Burada listelenen tablo/katmanlara her çif tıklamanız onları Map Canvasa ekler.

Burada görülen tablo/katmana sağ tıklamanız size birkaç seçenek sunacaktır. Katmanın özelliklerinde görülen Özellikler nesnesine tıklayınız.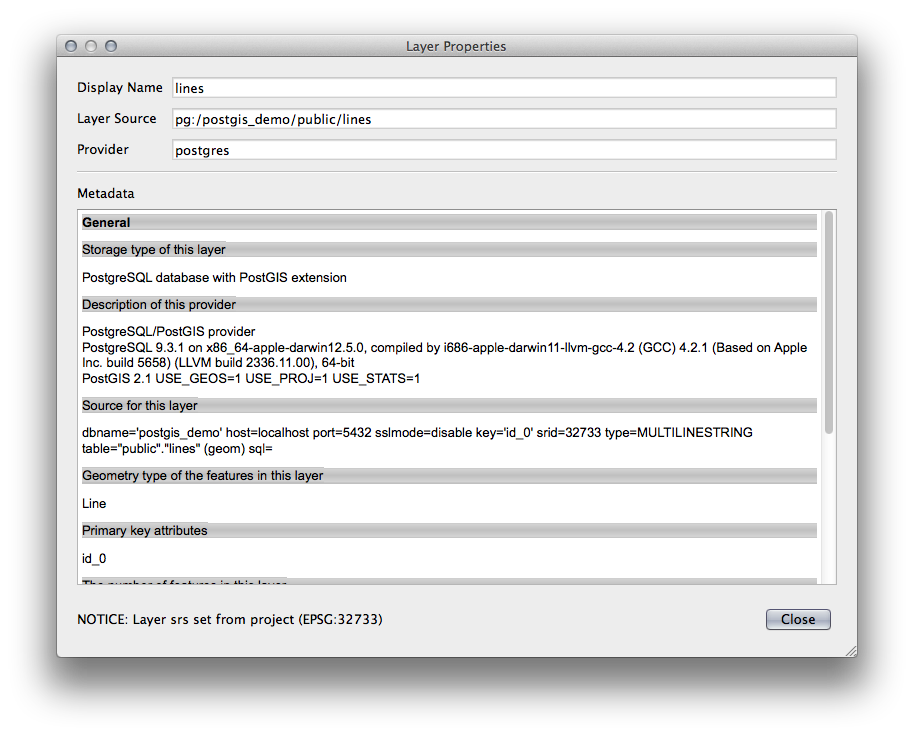 Not
Of course you can also use this interface to connect to PostGIS databases hosted on a server external to your workstation. Right clicking on the PostGIS entry in the tree will allow you to specify connection paramaters for a new connection.
19.1.2. |temel| Follow Along: filtrelenmiş kayıtları Katman olark ekleme
Now that we have seen how to add an entire table as a QGIS layer it might be nice to learn how to add a filtered set of records from a table as a layer by using queries that we learned about in previous sections.
Yeni bir katmansız harita açınız

Click the Add PostGIS Layers button or select from the menu.

Açılan Add PostGIS Table(s) penceresinde, postgis_demo bağlantısına bağlanınız.

public schema genişletiniz ve daha önceden çalıştığımız üç tabloyu bulabilirsiniz.

lines katmanını seçmek için onu seçiniz, fakat eklemek yerine, Query Builder penceresini açmak için Set Filter düğmeisne tıklayınız.

Düğmeye tıklayarak veya doğrudan girerek gelecek olan ifadeyi düzenleyiniz: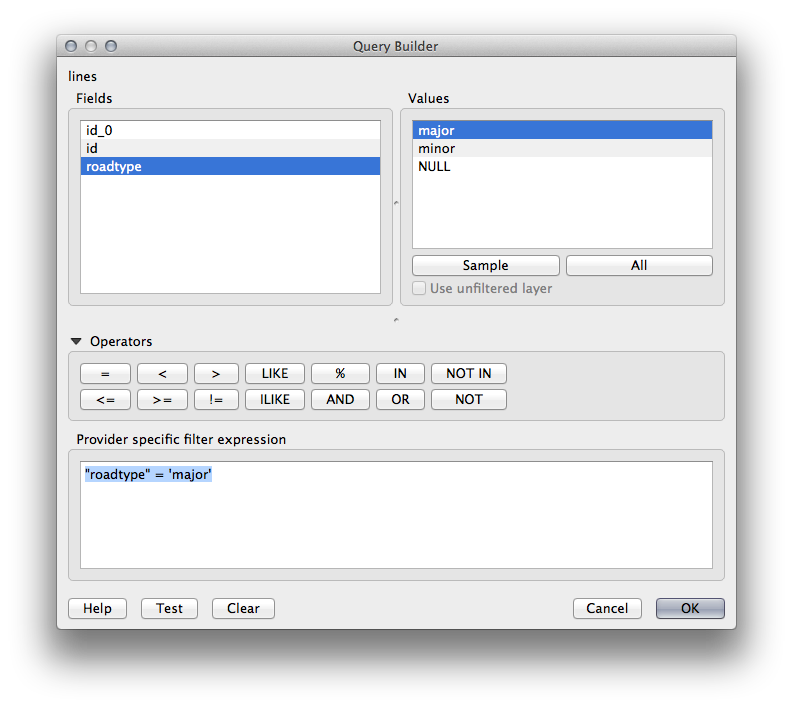 Filtre eklemeyi tamamlamak için OK e tıklayın ve filtrelenmiş katmanı haritaya eklemek için Add e tıklayın.

roads_primary ağacındaki lines katmanını yeniden adlandırınız.
Tüm katman yerine sadece Ana Yolların haritanıza eklendiğine dikkat ediniz.
19.1.3. In Conclusion
QGIS Tarayıcıyı kullanarak uzaysal veritabanı ile etkileşimde bulunduğunu ve sorgu fitresine dayalı katmanları haritanıza nasıl ekleyeceğinizi görüyorsunuz.
19.1.4. What's Next?
Sonra veritabanı görev yönetimi eksiksiz kurulumu için QGIS te Veritabanı Yönetici Arayüzü ile nasıl çalışılacağını göreceksiniz.