Módulo de Análise do Terreno Matricial

The Raster Terrain Analysis Plugin can be used to calculate the slope, aspect, hillshade, ruggedness index and relief for digital elevation models (DEM). It is very simple to handle and provides an intuitive graphical user interface for creating new raster layers (see Figure_raster_terrain).
Descrição das análises:
Declive: Calcula o ângulo de declive para cada célula em graus (baseado na primeira derivada de estimação).

Exposições: Exposição (começando com o 0 para direcção norte, em graus contra-relógio).

Hillshade: Creates a shaded map using light and shadow to provide a more three-dimensional appearance for a shaded relief map. The output map is a Single band gray reflecting the gray value of the pixels.

Índice de Rugosidade: Medição quantitativa da heterogeneidade do terreno como é descrito por Riley et al. (1999). É calculado para cada localização, pelo resumo da alteração da elevação dentro de uma grelha de 3x3 pixeis.

Relief: Creates a shaded relief map from digital elevation data. Implemented is a method to choose the elevation colors by analysing the frequency distribution. The output map is a multiband color with three bands reflecting the RGB values of the shaded relief.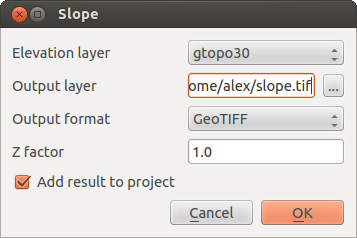 Usando o módulo
Start QGIS and load the gtopo30 raster layer from the GRASS sample location.

Carregue o módulo de Análise do Terreno Raster no Gestor de Módulos (veja The Plugins Dialog).

Select an analysis method from the menu (e.g., ). The Slope dialog appears as shown in Figure_raster_terrain.

Especifique um caminho de saída do ficheiro, e o tipo de ficheiro.

Clique [OK].