Expressões
Based on layer data and prebuilt or user defined functions, Expressions offer a powerful way to manipulate attribute value, geometry and variables in order to dynamically change the geometry style, the content or position of the label, the value for diagram, the height of a composer item, select some features, create virtual field ...
A plataforma principal para construir expressões, o Expression string builder está disponível em muitas partes no QGIS e, pode ser acessado quando:
A plataforma de Construção de Expressão oferece acesso a:
Aba de Expressão, a qual ajuda a escrever e verificar a expressão a ser usada, graças a uma lista predefinida de funções;

Aba de Editor de Função a qual ajuda a expandir a lista de funções por meio de criações customizadas de novas funções.
Alguns casos de usos das Expressões:
A partir da Calculadora de Campo, calcula-se um campo de densidade populacional ("pop_density") usando os campos existentes de população ("total_pop") e de área ("area_km2"):

Atualiza-se o campo sobre nível de densidade ("density_level") com categorias de acordo com os valores da densidade ("pop_density"):

CASE WHEN "pop_density" < 50 THEN 'Low population density'
     WHEN "pop_density" >= 50 and "pop_density" < 150 THEN 'Medium population density'
     WHEN "pop_density" >= 150 THEN 'High population density'
END

Aplica-se um estilo categorizado para todas as feições de acordo com condição do valor médio da casa ser maior ou maior do que 10000€ por metro quadrado:

Usando a ferramenta "Selecionar por Expressão...", seleciona-se todas as feições representativas de áreas de "Alta densidade populacional" e as quais possuem valor médio da casa maior do que 10000€ por metro 2:

"density_level" = 'High population density' and "price_m2" > 10000


Do mesmo modo, a expressão anterior poderia também ser usada para definir quais feições deveriam ser rotuladas ou mostradas no mapa.
Usar expressões permite a você um monte de possibilidades.
Dica
Use Parâmetros Nomeados para aperfeiçoar a leitura da expressão
Algumas funções exigem a configuração de inúmeros parâmetros. O mecanismo de Expressão suporta o uso de Parâmetros nomeados. Isto significa que ao invés de escrever a expressão criptografada clamp( 1, 2, 9), você pode usar clamp( min:=1, value:=2, max:=9). Isto permite que os argumentos sejam trocados, por exemplo, clamp( value:=2, max:=9, min:=1). Usar Parâmetros nomeados ajuda a esclarecer ao que os argumentos de uma função se referem, o que pode ser útil quando você estará tentando interpretar uma função no futuro.
The Expression tab provides the main interface to write expressions using functions, layer's fields and values. It contains widgets to:
type expressions using functions and/or fields. At the bottom of the dialog, is displayed the result of the expression evaluated on the first feature of the layer.
select the appropriate function among a list, organized in groups. A search box is available to filter the list and quickly find a particular function or field. Double-clicking on the item's name adds it to the expression being written.
display help for each function selected. When a field is selected, this widget shows a sample of its values. Double-clicking a value adds it to the expression.
With the Function Editor, you are able to define your own Python custom functions in a comfortable way.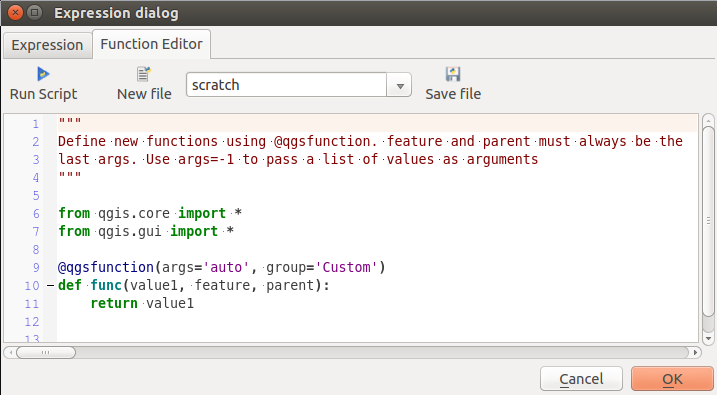 The function editor will create new Python files in .qgis2\python\expressions folder and will auto load all functions defined when starting QGIS. Be aware that new functions are only saved in the expressions folder and not in the project file. If you have a project that uses one of your custom functions you will need to also share the .py file in the expressions folder.
Aqui há um breve exemplo de como criar suas próprias funções:
@qgsfunction(args="auto", group='Custom')
def myfunc(value1, value2, feature, parent):
    pass

The short example creates a function myfunc that will give you a function with two values. When using the args='auto' function argument the number of function arguments required will be calculated by the number of arguments the function has been defined with in Python (minus 2 - feature, and parent).
This function then can be used with the following expression:
Your function will be implemented in the Custom functions group of the Expression tab after using the Run Script button.
Further information about creating Python code can be found in the Passo-a-passo para desenvolvedor PyQGIS.
The function editor is not only limited to working with the field calculator, it can be found whenever you work with expressions.