The Main properties group of the legend Item Properties panel provides the following functionalities (see figure_layout_legend_ppt):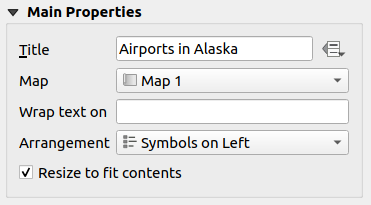 In Main properties you can:
Change the Title of the legend. It can be made dynamic using the data-defined override setting, useful for example when generating an atlas;

Choose which Map item the current legend will refer to. By default, the map over which the legend item is drawn is picked. If none, then it falls back to the reference map.

Note

Variables of the linked map item (@map_id, @map_scale, @map_extent…) are also accessible from data-defined properties of the legend.

Wrap the text of the legend on a given character: each time the character appears, it's replaced with a line break;

Set the symbols and text placement in the legend: the Arrangement can be Symbols on left or Symbols on right. The default value depends on the locale in use (right-to-left based or not).

Use Resize to fit contents to control whether or not a legend should be automatically resized to fit its contents. If unchecked, then the legend will never resize and instead just stick to whatever size the user has set. Any content which doesn't fit the size is cropped out.