The Georeferencer Plugin is a tool for generating world files for rasters. It allows you to reference rasters to geographic or projected coordinate systems by creating a new GeoTiff or by adding a world file to the existing image. The basic approach to georeferencing a raster is to locate points on the raster for which you can accurately determine coordinates.
Procedura uzuală
As X and Y coordinates (DMS (dd mm ss.ss), DD (dd.dd) or projected coordinates (mmmm.mm)), which correspond with the selected point on the image, two alternative procedures can be used:
The raster itself sometimes provides crosses with coordinates "written" on the image. In this case, you can enter the coordinates manually.
Using already georeferenced layers. This can be either vector or raster data that contain the same objects/features that you have on the image that you want to georeference and with the projection that you want for your image. In this case, you can enter the coordinates by clicking on the reference dataset loaded in the QGIS map canvas.
Procedura standard de georeferențiere a unei imagini implică selectarea mai multor puncte de pe raster, specificându-le coordonatele și alegând o modalitate relevantă de transformare a tipului lor. Bazându-se pe parametrii și datele introduse, plugin-ul va calcula parametrii fișierului harții lumii. Cu cât oferiți mai multe coordonate, cu atât va fi mai bun rezultatul.
The first step is to start QGIS, load the Georeferencer Plugin (see The Plugins Dialog) and click on , which appears in the QGIS menu bar. The Georeferencer Plugin dialog appears as shown in figure_georeferencer_1.
Pentru acest exemplu, utilizăm o planșă topografică a Dakotei de Sud din SDGS. Va putea fi vizualizată mai târziu împreună cu datele din locația fișierului GRASS spearfish60. Puteți descărca planșa topografică de aici: http://grass.osgeo.org/sampledata/spearfish_toposheet.tar.gz.
Figure Georeferencer 1:
Introduceți punctele de control din teren (GCPs)
To start georeferencing an unreferenced raster, we must load it using the button. The raster will show up in the main working area of the dialog. Once the raster is loaded, we can start to enter reference points.

Utilizând butonul Add Point , se adaugă puncte la suprafața principală de lucru și se introduc coordonatele lor ( vezi figura figure_georeferencer_2 ). Pentru această procedură aveți trei opțiuni:

Faceți clic pe un punct din imaginea raster și introduceți coordonatele X și Y manual.

Click on a point in the raster image and choose the From map canvas button to add the X and Y coordinates with the help of a georeferenced map already loaded in the QGIS map canvas.

Prin butonul , puteți muta GCP in ambele ferestre, dacă sunt în locul greșit.

Continue entering points. You should have at least four points, and the more coordinates you can provide, the better the result will be. There are additional tools on the plugin dialog to zoom and pan the working area in order to locate a relevant set of GCP points.
Figure Georeferencer 2: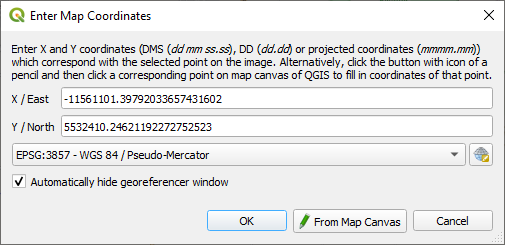 The points that are added to the map will be stored in a separate text file ([filename].points) usually together with the raster image. This allows us to reopen the Georeferencer plugin at a later date and add new points or delete existing ones to optimize the result. The points file contains values of the form: mapX, mapY, pixelX, pixelY. You can use the

Load GCP points and

Save GCP points as buttons to manage the files.
Definirea setărilor de transformare
După ce ați adăugat GCP / Ground Control Point = Puncte de Control pe Teren, la imaginea raster, va trebui să definiți parametrii transformării pentru procesul de georeferențiere.
Figure Georeferencer 3: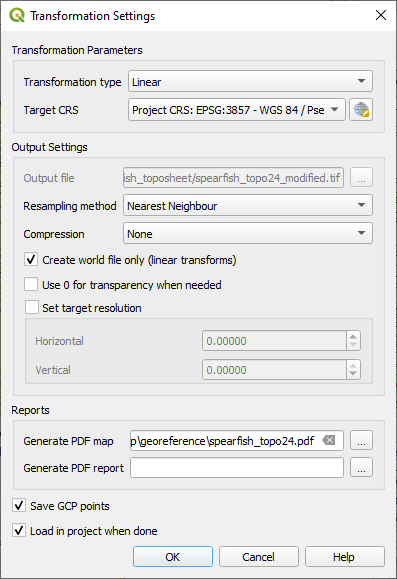 Algoritmi de transformare disponibili
Depending on how many ground control points you have captured, you may want to use different transformation algorithms. Choice of transformation algorithm is also dependent on the type and quality of input data and the amount of geometric distortion that you are willing to introduce to the final result.
În mod curent, sunt disponibile următoarele tipuri de transformări:
Definire metodă de reeşantionare
Tipul de reeșantionarea pe care o alegeți va depinde în funcție de datele de intrare și de obiectivul final al exercițiului . Dacă nu doriți să modificați statistica imaginii , este posibil să doriți să alegeți " Cel mai apropiat vecin " , în timp ce un " reeșantionare Cubică " va oferi probabil un rezultat mai finisat .
It is possible to choose between five different resampling methods:
Cel mai apropiat vecin

Liniar

Cubic
Cubic Spline
Lanczos
Definiți setările de transformare
Există mai multe opțiuni care trebuie definite pentru grila de ieșire georeferentiată.
The Create world file checkbox is only available if you decide to use the linear transformation type, because this means that the raster image actually won't be transformed. In this case, the Output raster field is not activated, because only a new world file will be created.
For all other transformation types, you have to define an Output raster. As default, a new file ([filename]_modified) will be created in the same folder together with the original raster image.
As a next step, you have to define the Target SRS (Spatial Reference System) for the georeferenced raster (see Working with Projections).
If you like, you can generate a pdf map and also a pdf report. The report includes information about the used transformation parameters, an image of the residuals and a list with all GCPs and their RMS errors.
Furthermore, you can activate the Set Target Resolution checkbox and define the pixel resolution of the output raster. Default horizontal and vertical resolution is 1.
The Use 0 for transparency when needed can be activated, if pixels with the value 0 shall be visualized transparent. In our example toposheet, all white areas would be transparent.
Finally, Load in QGIS when done loads the output raster automatically into the QGIS map canvas when the transformation is done.
Afișarea și adaptarea proprietăților rasterului
Executând click pe eticheta "Proprietăți raster" din meniul "Setări" se deschide meniul proprietăți raster al stratului pe care doriți să îl georeferențiați.
Configurarea georeferențiatorului
Puteți defini dacă să arătați coordonatele și/sau ID-urile GCP.

Ca unități reziduale, se pot alege pixelii și unitățile de hartă.

For the PDF report, a left and right margin can be defined and you can also set the paper size for the PDF map.
Finally, you can activate to Show Georeferencer window docked.
Execuție transformare
After all GCPs have been collected and all transformation settings are defined, just press the
Start georeferencing button to create the new georeferenced raster.