Plugin-ul Verificator de Geometrie
Verificatorul de geometrie reprezintă un plugin de bază puternic, dedicat verificării și remedierii validității geometriei unui strat. Dialogul Verificatorul de geometrie prezintă, în prima filă, diverse grupuri de setări (Settings):
Stratul vectorial de intrare: pentru a selecta layer-ul de verificat. O casetă de bifare dedicată Doar entităților selectate poate restrânge geometriile la cele selecționate.

Validitatea geometriei: oferă utilizatorului posibilitatea de a alege între Auto intersecții, Noduri duplicate, Poligon cu mai puțin de 3 noduri.

Tipuri de geometrii permise: sunt acceptate doar anumite tipuri de geometrie, cum ar fi punctul, multipunctul, linia, multilinia, poligonul și multipoligonul.

Geometry properties displays Polygons and multipolygons may not contain any holes and Multipart objects must consist of more than one part.
Geometry conditions: user can add some condition to validate the geometries with a minimal segment length, a minimum angle between segment, a minimal polygon area and sliver polygons detection.
Topology checks: checks for duplicates, for features within other features, overlaps smaller than a number, for gaps smaller than a number.

Toleranța: puteți defini aici toleranța pentru verificare.

Output vector layer gives the choice to the user how get the result between modifiy the current layer and create a new layer.
După ce vă mulțumește configurația, puteți face clic pe butonul [Run].
The results appear in the second tab and as an overview layer of the errors in the canvas (its name is checker). A table list the geometry check result with one error by row: the first row is an ID, the second the reason of the error, then the coordinates of the error, a value (depending on the type of the error) and finally the resolution column which indicates the resolution of the error. At the bottom of this table, you can export the error into a shapefile. At the left, you have the number of the errors and the fixed errors.
Figure Geometry Checker: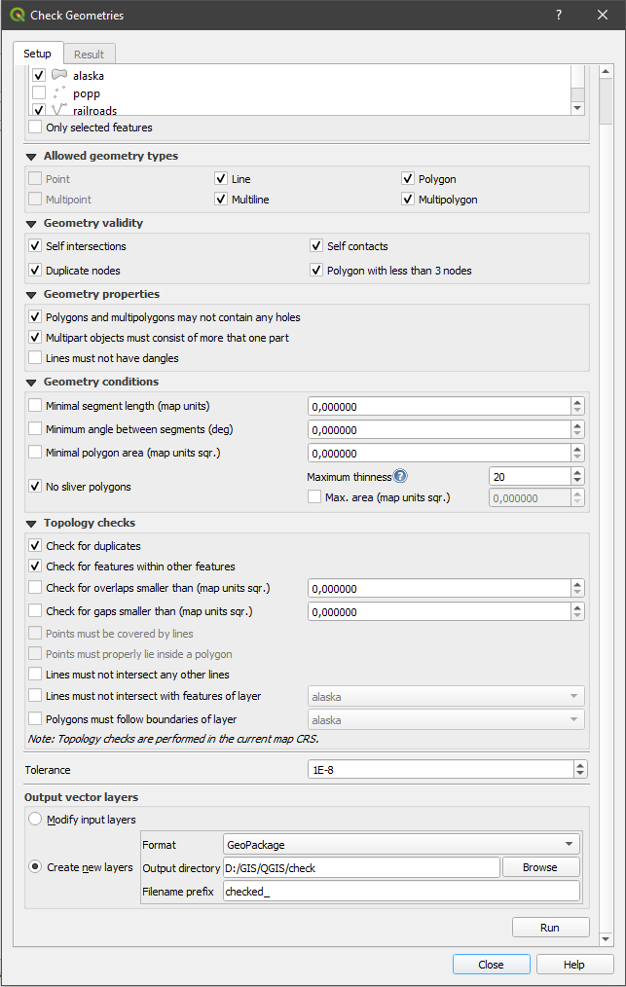 Plugin-ul Verificator de Geometrie poate găsi următoarele erori:
Autointersecții: un poligon se intersectează cu el însuși,

Noduri duplicate: două noduri duplicate dintr-un segment

Găuri: găurile dintr-un poligon

Lungimea segmentului: o lungime de segment mai mică decât un prag,

Unghiul minim: două segmente cu un unghi mai mic decât un prag,

Aria minimă: suprafața poligonală mai mică decât un prag,

Poligoanele de tip "așchie": această eroare provine de la poligoanele foarte mici (cu suprafața mică) dar cu un perimetru mare,

Entități duplicate,

Entitățile incluse în alte entități,

Suprapuneri: poligoanele suprapuse,

Breșe: fantele dintre poligoane
Figura următoare prezintă diferitele verificări efectuate de către plugin.
Figure The Differents checks supported by the plugin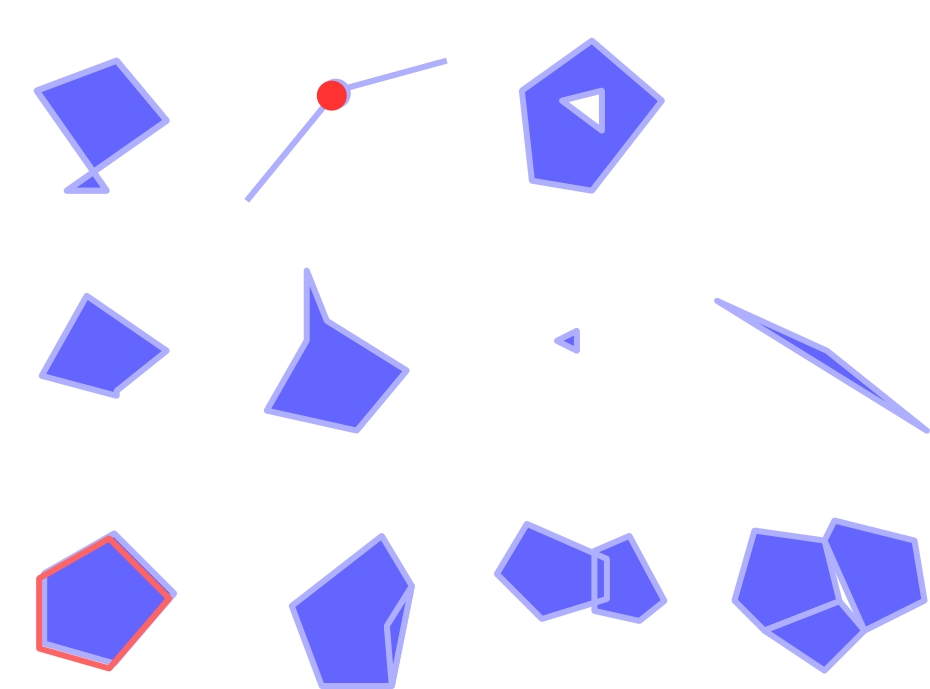 You can select a row to see the localisation of the error. You can change this behaviour by selecting another action between error (default), Feature, Don't move, and

Highlight contour of selected features.
Below the zoom action when clicking on the table row, you can Show the selected features in attribute table, Fix selected errors using default resolution and Fix selected errors, prompt for resolution method. In the latter, you will see a window to choose the resolution's method among which:
Unește cu poligonul învecinat care are cea mai lungă margine comună

Unește cu poligonul învecinat care are cea mai mare suprafață

Unește cu poligonul învecinat care are valori identice ale atributelor, dacă este cazul, sau rămâne așa cum este

Ştergere entitate

Nici o acțiune
Tip
Remediere erori multiple
You can fix multiple errors by selecting more than one row in the table with the CTRL + click action.
The default action could be changed with the last icon Error resolution settings. For some type of errors, you can change the default action between some specific action or No action.
În cele din urmă, puteți alege atributul care va fi utilizat, atunci când fuzionează entitățile după valoarea atributului.