Expressões
The Expressions feature is available from many parts in QGIS. It can be accessed using the

Expression Builder, the

Select By Expression..., the Geometry generator symbol layer option, the

Field calculator or the

Data defined override tool. Based on layer data and prebuilt or user defined functions, it offers a powerful way to manipulate attribute value, geometry and variables in order to dynamically change the geometry style, the content or position of the label, the value for diagram, the height of a composer item, select some features, create virtual field ...
Alguns exemplos:
From Field Calculator, calculate a "pop_density" field using existing "total_pop" and "area_km2" fields:

Update the field "density_level" with categories according to the "pop_density" values:

CASE WHEN "pop_density" < 50 THEN 'Low population density'
     WHEN "pop_density" >= 50 and "pop_density" < 150 THEN 'Medium population density'
     WHEN "pop_density" >= 150 THEN 'High population density'
END

Apply a categorized style to all the features according to whether their average house price is smaller or higher than 10000€ per square metre:

Using the "Select By Expression..." tool, select all the features representing areas of "High population density" and whose average house price is higher than 10000€ per square metre:

"density_level" = 'High population density' and "price_m2" > 10000

Likewise, the previous expression could also be used to define which features should be labeled or shown in the map. Using expressions offers you a lot of possibilities.
The Expressions feature offers access to the:
Expression tab which lists functions to use
Function Editor tab which helps to create custom functions to use in the expressions.
Figure Expression 1:
The Expression tab contains functions as well as layer's fields and values. It contains widgets to:
type expressions using functions and/or fields. A preview of the expression's result is displayed at the bottom of the dialog.
select the appropriate function among a list. A search box is available to filter the list and quickly find a particular function or field. Double-clicking on the item's name adds it to the expression being written.
display help for each function selected. When a field is selected, this widget shows a sample of its values. Double-clicking a value adds it to the expression.
To help to quickly find a function, they are organized in groups. In Operators, you find mathematical operators. Look in Math for mathematical functions. The Conversions group contains functions that convert one data type to another. The String group provides functions for data strings, such as Date and Time handles date and time data. In the Geometry group, you find functions for geometry objects. With Record group functions, you can add a numeration to your data set while Fields and Values group helps view all attributes of the attribute table. The Customs group lists the functions created or imported by the user. There are many other groups, listed below.
With the Function Editor, you are able to define your own Python custom functions in a comfortable way.
Figure Expression 2: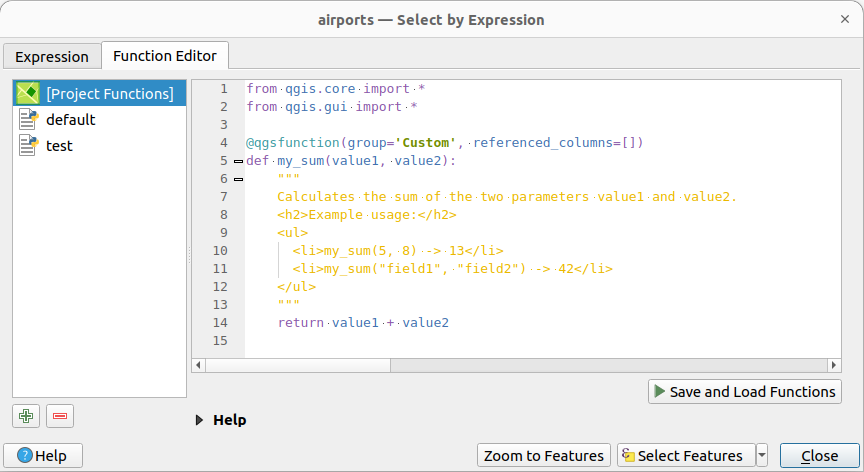 The function editor will create new Python files in .qgis2\python\expressions folder and will auto load all functions defined when starting QGIS. Be aware that new functions are only saved in the expressions folder and not in the project file. If you have a project that uses one of your custom functions you will need to also share the .py file in the expressions folder.
Aqui há um breve exemplo de como criar suas próprias funções:
@qgsfunction(args="auto", group='Custom')
def myfunc(value1, value2, feature, parent):
    pass

The short example creates a function 'myfunc' that will give you a function with two values. When using the args='auto' function argument the number of function arguments required will be calculated by the number of arguments the function has been defined with in Python (minus 2 - feature, and parent).
This function then can be used with the following expression:
Your function will be implemented in the Custom functions group of the Expression tab after using the Run Script button.
Further information about creating Python code can be found in the Passo-a-passo para desenvolvedor PyQGIS.
The function editor is not only limited to working with the field calculator, it can be found whenever you work with expressions.